The Shmee150 world
Shmee150 is the personal brand of Tim Burton, a.k.a. 'Shmee', who travels the world to seek out and find the greatest and most exclusive automotive content possible. With a vast social media following across the world reaching a growing group of 
8,800,000+
 fans and followers, Shmee is known by enthusiasts to serial hypercar purchasers, and even Middle-Eastern Sheikhs! They follow the adventures including car rallies and road trips, exclusive shoots and adventures further afield.
Tim shares his personal experiences in the luxury automotive world via video selfies and other content with an honest and personal touch that is not found elsewhere to connect with fans, friends, followers and partners via many social media streams, and in particular YouTube videos.
The Shmee150 channel is constantly reaching new heights across various platforms. At this moment the network reaches 80+ million sets of eyes on a monthly basis across all channels. The YouTube channel alone managed a total view number of more than 18 million in March 2019 and is a strong base for the complete network, which reaches a record number of more than 80M.
2020 showed us a really strong trend in YouTube views at an average of 11 million monthly views and an average of 350,000 views per video. The YouTube channel reached 12.7 million views in March, which has been our strongest month for many years. Instagram has become the 2nd most important channel
with an average reach of 450,000 per feed share and 100,000 per story.
The social media network engages and reaches people aged between 18-34, mostly males. Shmee150's key strength is the ability to reach a large number of people quickly via the usual online channels. The biggest age group on YouTube has an age between 25 and 34 (32%) followed by the 18-24 (28%) and the 35-44 (19%) and is predominately male (95%). 51% of the audience is between 25 and 44, which is a much higher number than similar channels in the automotive space. It is a key characteristic for the Shmee150 channel.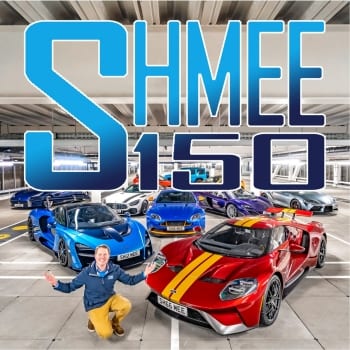 The visitors and viewers of the YouTube channel are coming from across the world. 27% of the watched time is viewed in the U.S., followed by 19% from the UK. With regards to views, the U.S. has 21% and the UK scores 14% over the last 12 months. Other important countries are Canada, Germany, India, the Netherlands, and Australia.
Next to YouTube, there are the social platforms where Shmee150 reaches a similar but also a slightly younger audience. The big target groups are 18 to 24 and 25 to 34. 81% of the reached audience is male on the social platforms.
Shmee150 offers a unique opportunity to create premium targeted advertising campaigns featuring product placements, social media campaigns and competitions. Together with the client, we tailor your ideas and establish a maximum result by mixing paid and organic content. Some of the companies who have worked with Shmee150 or advertised on the various platforms can be seen on the partners page. For more information about advertising and rates please contact the Shmee150 team.
---
Contact form
Please enter all required fields. (If you experience problems with the contact form, then please use our enquiries(at)shmee150.co.uk email address.)
---
General contact information
Want to get in touch with me or the Shmee150 content team? Please visit the contact page. We'll do our best to respond within two to three business days. A lot of time goes into all of the Shmee150 activities so I would like to ask for a little patience.
---
Shmee150 YouTube – Shmee150 Facebook – Shmee150 Instagram – Shmee150 TikTok – Shmee150 LinkedIn