This is a discussion topic that is dominating the Shmee150 social media streams at the moment. It breaks down to two parts, firstly: "you only bought the Focus RS to get a GT" and secondly: "this is Ford marketing, they gave it to you". These are both topics of discussion that clearly need further explaining, if not so this page can be used for reference when the topic arises in future.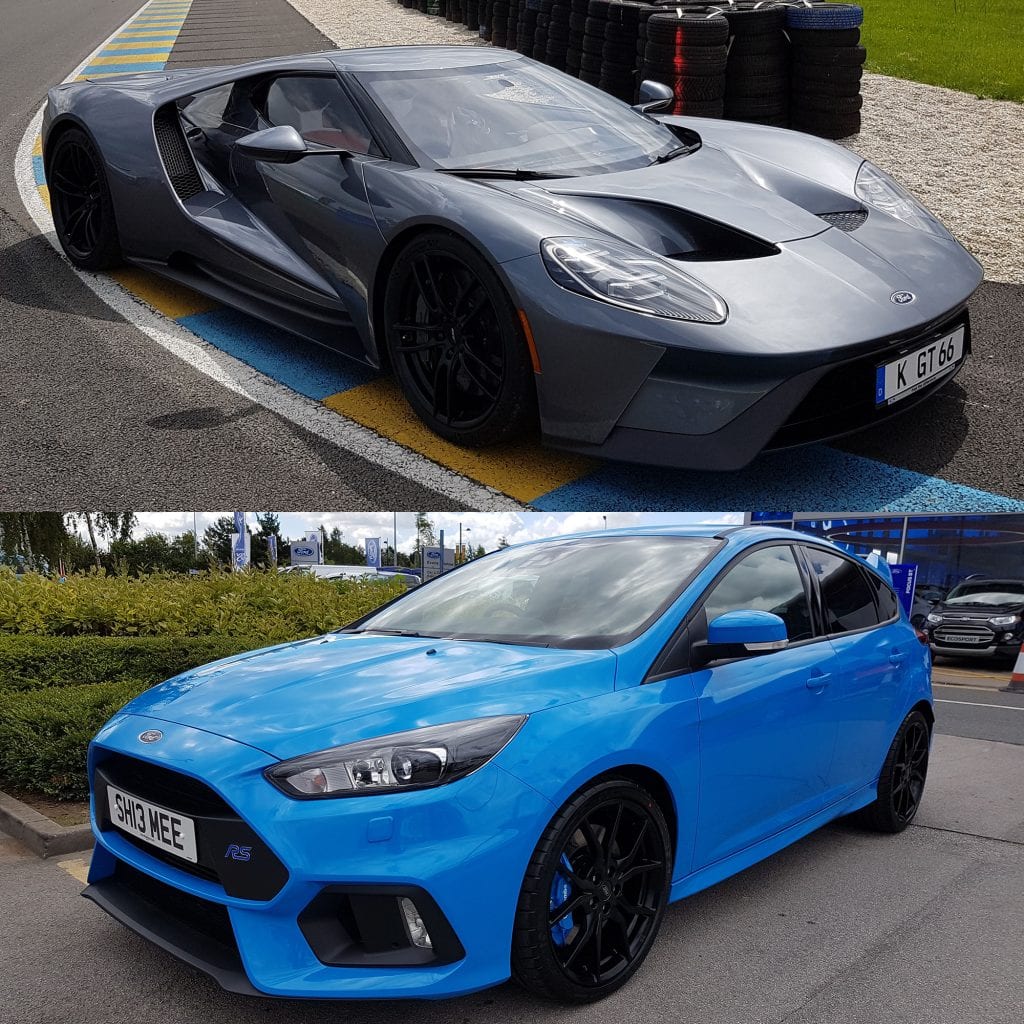 Let's get started with the history of the latest generation of Ford GT and my involvement with it.
I've been interested in the Ford GT since it was unveiled, in fact I was actually at the launch event of January 2015 with the car being shown to the world for the very first time. Amusingly I put in a request to purchase one that very same day although this was long before there were any formal methods by which to do this so it fell on deaf ears.
After making some great content with the GT during that event, Ford then offered me the opportunity to join the global premiere of the new Focus RS with Ken Block at the factory in Cologne a month later to again create video for the channel.
A few short months later, and well over a million views later, Ford again invited me to the launch of the GT racecar in Le Mans ahead of the 2015 race getting underway. This was an event where they would announce their intentions to compete in 2016 to mark the 50th anniversary of their epic achievement with the GT40 in 1966.
My personal exposure to the brand grew stronger during the year that followed and that offered an opportunity to find out more, experience more, and understand more how the new Ford Performance brand was shaping up. Naturally you guys, the audience, seem to agree based on the viewership numbers coming in from all of the above content.
As Le Mans 2016 rolled around, Ford invited me to join their efforts and take a look behind the scenes; who was I to decline – just look at the amazing story that developed as the history books were again written! Simultaneously as you will know I am always on the look out for ways to integrate the latest interesting cars into video content so it was a natural fit to jump onboard the new Focus RS for the drive from London to Le Mans, via Paris.
It's without doubt that my interest in the Focus RS was peaked as a result of a connection and lust for the GT; however during this journey I developed a genuine intrigue in the car, one that you will certainly have seen in my content from the trip. There are many different categories of cars, but outside of my Abarth (much smaller and with a paddle-shift box), I've not experienced a true hot hatch and certainly not one of this pedigree.
When I arrived in Le Mans I asked the powers-that-be at Ford if there could be an opportunity to run a Focus RS fleet vehicle for a short period; just as I have done and fully declared previously with both the BMW X6 M50d and M4 that I ran during 2015. Unfortunately the answer was given to me that there is no possibility to do such things with Ford Performance cars, if I wanted one – I'd have to buy it! That would also mean the slight issue of a 12 month wait list if you go into a dealer now…
Let's rewind to the Ford GT storyline too, the application process whereby you completed a form asking for all sorts of factors was run from April-May; asking for your Ford history, general car collection questions, whether you race anything, and about social media followings. During the Le Mans weekend I also announced that I had completed an application for this car, which will not be a surprise having been keen on it for 18 months prior! The application process was closed then in May, so nothing that happens since then technically impacts the submitted answers.
Although Ford have not yet invited customers forward to confirm their purchases, I believe this will be done during the next month or two, however it would not surprise me if those allocations have already been made and ergo what happens at this stage whether I were to buy or not buy a Focus RS is of no consequence.
So why have I bought one? I'm a car guy! I like new experiences, trying different things, exploring what types of cars are available, and this just seemed to tick many, many boxes at this time. More importantly I would say, why not!? The car has fantastic reviews, I thoroughly enjoyed my 600 or so miles at the wheel, and I have the capability to purchase one and add an iconic car to my collection to use and enjoy. When you actually look at it, why would I not buy one!
I made some enquiries to investigate if there was going to be a way to find a car and RS Vehicle Sales struck gold and sourced me a car without having to go too high on the premium but most importantly not having to wait too long for it to arrive with me. Two plus two effectively came straight to four and the deal was done.
How does this circle back around to the GT application? Well, maybe Ford will see that I've bought a Focus RS and maybe if they haven't already done the allocations it may help for me to be lucky enough to buy one. I honestly don't think it makes a difference either way but of course it can't hurt!
Let's conclude these two parts:
1) You only bought a Focus RS to get a Ford GT
It may help and it may not, in the mean time I own and enjoy what is indisputably a fantastic machine and a totally new experience for me. After 350 miles at the wheel I am not complaining at all and am looking forward to many more trips using it that I can share with you too. I am not the only person on social media who has recently bought a Ford Performance product and is raving about it; they are a hot brand right now and creating some amazing machines. For those who are constantly looking for conspiracy theories, maybe the answer is staring you in the face and they are just really good cars!
2) Ford gave you the Focus RS, stop pretending you bought it
Again, sorry guys, as much as I would wish it's possible to drive around in free cars, it rarely happens. Let's be real if it did happen, just as I have done before I would 100% have declared it as such. I am always open and honest in my content about the cars that are not mine, press cars for a day or loaner cars for a road trip. If I paid for it, it has my name on the registration document and my number plate on the front – you can be sure it's mine.
For now I will be thoroughly enjoying my Focus RS and maybe in the future I'll be lucky enough to collect and share the experiences of a Ford GT with you.